Since COVID-19 has reshaped the economic landscape for the foreseeable future and there are many questions about how to safely and effectively respond to it, now is a good time for manufacturers to consider how to make the best of our "new normal" if they haven't already done so in earnest.
In situations like the one we all find ourselves in, there is a trap we can fall into called the Normalcy Bias. This refers to the tendency to do whatever it takes to revert back to the comfortable means in order to restore a sense of balance and stability. Giving in to this Normalcy Bias often involves relying solely on hope and only planning for best-case scenarios, which can lead to a lack of focus on appropriate adaptation and re-evaluation of the status quo. If pragmatic alterations are made during abnormal times with an open-minded approach to long-term strategies, companies can do more than just weather a slow-moving storm like COVID-19. Companies can arrive on the other side, having risen to the occasion and confidently adjusted to smash the curveball we've all been thrown and improve operational performance.
To help companies reconnoiter their manufacturing process to meet this challenging time and the unknowable future that lies beyond, we thought it would be beneficial to gather up some insightful articles about controlling the quality of your process from a distance. This crucial consideration about how to seamlessly transition from in-person process monitoring to remote monitoring could separate the wheat from the chaff if we have to continue to work with a certain amount of isolation for the foreseeable future.
So here are four articles that will shed light on how to give your monitoring process more range in every sense of the word.
Remote Monitoring is our New Normal
Even if working in close proximity does become safe once again, the global nature of manufacturing has forever changed the way we communicate and conduct business between companies and even within organizations themselves.
The worldwide distribution of supply chains, broadening of team locations, outsourcing of critical functions within an organization, increasing automation and the digitization of data and communication has opened up the entire world to even small to medium-sized manufacturers. These changes have occurred slowly over the years but have altered the way manufacturing can be done and offered exciting solutions to the way it is currently being done.
To learn more about monitoring processes and product verification techniques to ensure quality, download our eBook: Predictable Adhesion in Manufacturing Through Process Verification.
Even at the best of times, principles such as preparation, efficiency, and reliability are invaluable to manufacturing processes if they are to produce EXCELLENCE consistently. The pathways to achieving these goals shift when disruptions (of both the great and small variety) come along. And right now, they are shifting towards a trend of remote process control that was already becoming a major necessity.
Large corporations and small businesses alike are dealing with the need to act quickly across large expanses of space without losing valuable time or project momentum. The many ways the world is changing, unforeseeable global pandemics notwithstanding, are giving companies cause to implement remote work strategies that not only keep their processes running as smoothly as they currently run but, in fact, tighten up the whole operation so new efficiencies and faster reaction times are possible.
There are many benefits to companies that employ a remote workforce, but many manufacturing companies don't have much of a choice. That's where preparedness comes in. Companies that are outfitted with communication and data-sharing capabilities that easily traverse long distances can be more agile when changes to industry and surprises arise-- uncertain times demand quick responses and a nimble manufacturing operation.
Rethink your adhesion manufacturing processes with Surface Intelligence.
If you're considering opening up your quality management protocol to include or be primarily done through remote monitoring, this article we published when the lockdowns first began in March is a great primer on the whys and hows of this strategy.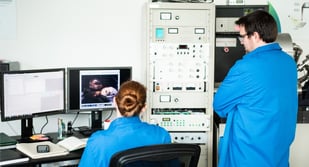 Quantitative surface quality testing methods for reliable bonding, coating, sealing, cleaning, printing, and painting operations are often not prioritized, let alone implemented in a way that many think might be rather cumbersome. But this article walks you through four reasons why this is a critical part of any predictably effective manufacturing process and how automated surface quality measurements can bridge distances between production lines and Quality Assessment Engineers.
"Also, when inspection equipment that allows remote teams to gather the information they require to develop and scale new products isn't being used, this can cause costly delays in getting to the production stage. These delays can also result in finding out there was an issue when it's much more expensive and time-consuming to fix. Fast and critical learning across remote teams allows for preventative measures to be implemented so problems are stopped before they exist."

A major part of any remote monitoring program is the collection and analysis of data en masse. Installing data collection systems is the first step to creating a remote monitoring strategy actually takes what is happening on the production line and disseminates it to engineers working all over the world.
This article focuses on supporting the health of machinery when social distancing calls for much fewer workers to be present in the facilities these machines are being used. It also explains how remote monitoring can help manufacturers pivot in a crisis to alleviate a need in another industry when necessary:
"MES and ERP platforms with accurate inventory lists and customer orders can be weighed against current production capacity to determine the quantity of output that is achievable within specified time frames. This process and accurate machine data also make it possible for manufacturers from other industrial niches to understand their production capacities when crossing into the field of medical device manufacturing, for example.
Thus, an automobile manufacturer who intends to help produce ventilators can make use of available historical data from similar machines to efficiently produce a different product."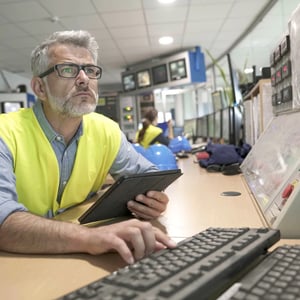 This article gets into many of the practical benefits of remote monitoring and some of what the industrial internet of things (IoT) and artificial intelligence (AI) are employed to make it possible.
This article includes a great case study of a company that provides electric power supplies to film productions. Having remote visibility of critical, real-time data didn't fundamentally change their customers' experience but allowed the company to alter its approach on the backend to meet the same needs of its clients in new ways.
"Companies that run initiatives in remote locations are especially challenged, adding to maintenance costs and affecting visibility into their systems.
Remote monitoring solves this dilemma by supplying access to real-time alerts and data and enabling on-the-spot mitigation, often without missing a beat. When data is required to verify compliance, it is readily and instantly available when needed, minimizing production delays and ensuring work carries on as expected."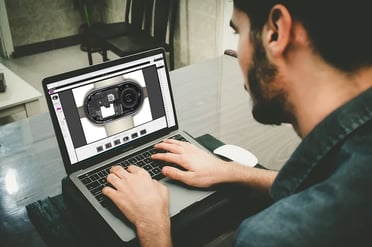 Instrumental is a company that provides engineers with visual data to analyze and verify product anomalies so that quality assurance and remediation can be done remotely.
This article primarily focuses on new product introduction (NPI), which is a continuous concern for manufacturers who still need to develop and scale up the production of products even during a crisis.
"For hardware engineers, remote work that would actually be productive seems impossible. How do you overcome the need to hunt for issues on the line, to physically teardown and analyze units, to quickly communicate with the factory, and to validate action? As a result, engineers take millions of trips from their offices to factories around the world each year because it's been the most efficient way to get this vital work done."
Optimize the power of next-gen connectivity with data & surface intelligence.
The Bottom Line about Remote Quality Monitoring
The coronavirus is changing the landscape of manufacturing as we know it. In the meantime, how global business is conducted requires new methods of monitoring processes remotely. The companies that are able to pivot and adapt to get this vital component right will be able to remain efficient, productive, and equipped to build the highest quality products possible, even in the face of crises.
To learn more about monitoring processes to ensure quality, download our eBook on product verification techniques that bring the best scientific knowledge to bear on manufacturing processes. Get your free copy of Predictable Adhesion in Manufacturing Through Process Verification.