Technical Paper
How Many Measurements Are Enough to Make Quality Decisions?

Learn how to successfully implement digital contact angle inspections into your manufacturing process.
In this white paper we cover the following topics: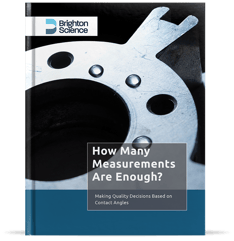 How contact angle quantifies the chemical composition of a surface
The two factors that create variability in measurement
Risk tolerance
Type I & Type II errors
How to calculate the number of inspections necessary to determine if a surface is in-spec or out-of-spec
Read this in-depth white paper to understand how you can implement contact angle inspections and confidently make surface quality decisions in manufacturing. Complete the form to the right to get your personal copy today.
Fill out the form below to download a copy of the white paper: