Webinar
Introducing BConnect

Unseen environmental conditions and human choices can compromise surface integrity, leading to costly flaws and breakdowns. Until now.
Brighton Science's BConnect SaaS platform brings next generation intelligence to mission-critical adhesion decisions. It gives you a common language and data set to innovate, troubleshoot and optimize processes.
Click the video to get more insight into how BConnect came to be from Brighton Science's CEO, Andy Reeher.
Networked Solutions
BConnect
It's the first and only surface intelligence platform on the market. BConnect enables you to effortlessly assess surface readiness for bonding, coating or sealing at any point in the production process — and share information seamlessly across processes and functions, even continents.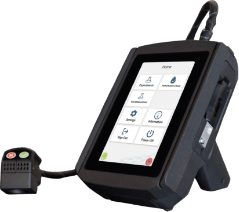 Track Cleanliness Changes
Compare measurements between Plasma treatments versus manual wiping to show the difference in cleanliness and contact angle.
Easy-to-Read Charting
­­Data can be charted in a variety of formats, like a bar graph, box-and-whisker plot to compare cleanliness by condition or location.
Easily Export & Share Data
­­Data can be sorted to compare mean, standard deviation and skewness. Easily export and share that data to employees around the world!