Kala is a technological leader in flexible packaging finishing and printing and was built on the principle of continual improvement through process innovation. So when Kala had plans to improve bonds in a lamination program, they contacted Brighton Science to consult on the best ways to understand and optimize their process.
During these conversations, Kala engineers understood that using contact angle measurements as a surface quality process control was far superior to the dyne pens they had been using.
"It became clear that we needed to adopt a method that could be done very quickly, would be non-destructive and could be done right on the production line, if needed," said Ryan Chai, Kala's Director of Flexible Packaging. "We always try to gather data in a way that is very precise. So, that was a driving factor that nudged us to look into utilizing contact angle in our process."
The precision of the Surface Analyst contact angle measurements came in handy when Kala took a closer look at Critical Control Points in their production process, such as the quality and consistency of materials coming to them from their vendors. "We were looking for a way to shore up our Receiving and Logistics process because we would immediately quarantine material that was out of spec, but we wanted a more precise way to communicate effectively to our vendors when there was a problem," said Chai.
Kala struggled to get the clear and determinate data they were looking for using dyne pens to characterize the quality of incoming films and materials.
As they would test the materials, they often found that the surface energy (i.e., the surface quality or cleanliness) would be too high or too low, falling outside the narrow range of dyne pens' scope. The Surface Analyst removed the ambiguity of dyne pens by providing rapid and accurate quality measurements with the resolution to assess the true quality of the material regardless of how high or low the surface energy was.
The value of the Surface Analyst was brought into stark relief when Kala discovered inconsistencies with their ability to print on film they were getting from one of their vendors. When the printing failures began, they put the Surface Analyst to work. Being able to measure very small areas of film and get repeatable results, Kala collected definitive evidence of a dramatic difference in surface energy between tiny film regions. On some rolls, the contaminated area was only about 0.5" wide, an area small enough to be missed by vague dyne ink assessments.
Optimize the power of next-gen connectivity with data & surface intelligence.
The Kala engineers easily sent this data with images from the Surface Analyst to their vendor, who, based on this concrete evidence, responded remarkably quickly to resolve the issue. Kala was able to pinpoint exactly where the contamination existed on the film web and could determine that it was present on the material as it was received. Most often, manufacturers who experience print adhesion failures of this kind are only able to say to their vendors, "Hey, it's not printing well," and both parties just have to shrug their shoulders because there's nothing identifying the source of the failure.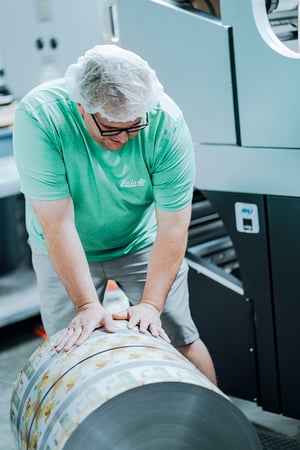 "There was an unprecedented level of speed relative to what our experience has been in the past with vendors once we sent an email and had one phone call with their engineers," explained Chai. "They picked up all of the material, around 40 rolls of film, based on the efforts of our quality team. We identified that there was a top wash on the film that was not consistently being applied. We were able to demonstrate that the surface energy was different across the film surface, and so they provided credit, and the cost of that was well over $80,000."
This achievement also saved Kala hours and hours of downtime; time they would have had to spend changing out rolls, trying to figure out exactly which ones were contaminated or waiting until the printing failed again.
Chai estimated that the cost of downtime would have been north of $16,000 over the course of a couple of months before it would have been sorted out at the typical speed. "I can't estimate the costs of a defect, though, but that goes way, way higher as those make their way through the supply chain."
The earlier you can spot and fix a quality issue, the more time and money it saves you. Those issues collect more and more expensive moss as they roll down the hill of production.
Kala has begun using the Surface Analyst as a process control technique beyond incoming material cleanliness. Because it was such a powerful asset in one part of the production, they've expanded its use to validate the corona treatment of their film as a pre-printing quality control measure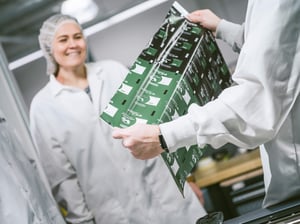 Incorporating the Surface Analyst into their production process more broadly has already shown Kala its usefulness in nearly every aspect of manufacturing, which is something outside the capabilities of lab instruments or traditional surface quality tests like dyne inks or water break tests.
Chai says, "The Surface Analyst is certainly a part of our validation process internally. As we start laminating structures together, we're measuring the impact of our treatments on polypropylene or polyester and a myriad of different structures. It was helpful just recently through an issue we had with our lamination process, just having that data and the ability to look at it in the context of everything else to make sure that nothing was out of spec. We're using it in product development as well, very heavily.
"I'd like to get to that kind of back and forth of data internally. That is my objective moving forward; we're just doing contact angle measurement. That way, we can see immediately if the surface quality is below what we need for a lamination bond or an ink bond."
It's fast. It's accurate. It's non-destructive. It's the Automated Surface Analyst.
Kala kept up its legacy of staying on the cutting edge of technology and processes that push its industry further by partnering with Brighton Science and adopting a more accurate, fast, reliable, and easy method of measuring surface quality.
"Using the Surface Analyst as a production problem-solving tool versus dyne pens, which are, I think, quite a bit more crude; this was probably the fastest ROI on any piece of equipment... in the last half-decade," said Chai.
To learn more about how you can better understand your adhesion process in order to save thousands of dollars in lost time and testing that isn't sensitive to what's actually happening on your material surfaces, download our eBook that guides you through conducting your own root cause analysis. Get your free copy today - Checklist: Adhesion Failure Root Cause Analysis for Manufacturers.