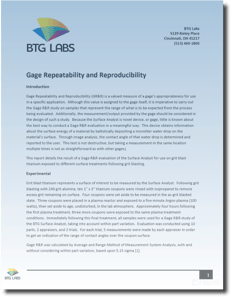 Gage Repeatability and Reproducibility are valued measures of a gauge's appropriateness for use in a specific application.
Although this value is assigned to the gauge itself, it is imperative to carry out the Gage R&R study on samples that represent the range of what is to be expected from the process being evaluated.
Additionally, the measurement/output provided by the gauge should be considered in the design of such a study.
This report details the result of a Gage R&R evaluation of the Surface Analyst for use on grit blast titanium exposed to different surface treatments following grit blasting.
Download the report: Gage Repeatability and Reproducibility of the Surface Analyst