A Deep History in Materials Science
Founder and Chief Scientist of Brighton Science, Dr. Giles Dillingham's fascination with the connections between the invisible (the molecular structure of the world around us) and the perceivable (the properties and behavior of materials and objects) stems from a very early age.
It wasn't until he had nearly completed a degree in biology that he discovered the field of study that formalizes this broad interdisciplinary subject: Materials Science. After finding this new specialty, he went on to earn a Ph.D. from the University of Cincinnati in 1987. He used advanced surface analytical tools to demonstrate the ability of surfaces to profoundly influence the molecular structure of adhesives at the interface.
Rethink your adhesion manufacturing processes with Surface Intelligence.
Dr. Dillingham then went on to work in the Advanced Composites laboratory at Dow Chemical Company. There, he developed a fundamental understanding of surface treatments for high-modulus polymeric fiber reinforcements for aerospace applications. Later, as Technical Director of HiTech Polymers, he oversaw the development and manufacture of novel thermoplastic blends and fiber-reinforced composites.
The Beginning of Brighton Science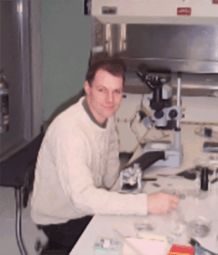 Looking for an opportunity to perform more fundamental research, he returned to the University of Cincinnati in the mid-1990s, where he worked on the plasma processing of materials. It was during these studies that his interest in the relationships between surface energetics and adhesion began to expand. He incorporated Brighton Technologies during this period to serve as a vehicle for the commercialization of technologies related to these areas.
He has been working with and expanding Brighton Science full-time since 2001. Dr. Dillingham maintains close ties with the materials science community through his continued dedication to basic research, presentations, and publications. He is proud to have been elected a Robert L. Patrick Fellow of the Adhesion Society.
Discover how you can leverage Dr. Dillingham's years of experience and expertise in materials science to implement surface intelligence into your business operations. Take a look at our surface science services to help you solve, prevent and control surfaces within product development and manufacturing.
Want to learn more? Download the eBook "Predictable Adhesion in Manufacturing Through Process Verification" to learn how you can build predictable adhesion processes within your operation.